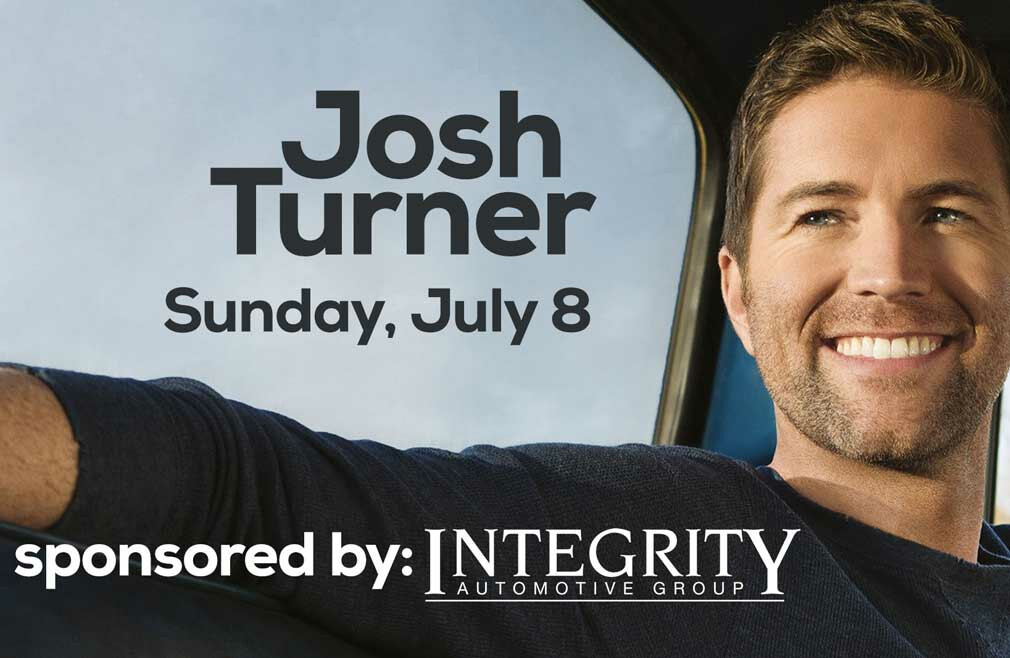 Sunday, July 08, 2018
,
10:30 AM - 12:00 PM
Multi-platinum MCA Nashville recording artist Josh Turner, will be at Abba's House on Sunday, July 8 at 10:30am as part of our All American Day celebration. Josh will participate in a Q&A session with Pastor Ronnie Phillips & Pastor Ken Hartley during his appearance.
We are anticipating an overflow crowd to see Josh Turner, so be sure to get here early. Overflow areas will be set up if the building is full. Don't want to stand in line?
Register to win 2 front row seats!
He is one of country music's most recognizable hit-makers. With a rich, deep voice and distinctive style, Turner has sold more than 8 million units, is a disciple of traditional country music and one of the youngest members of the esteemed Grand Ole Opry. From his 2003 platinum-selling debut Long Black Trainto his most recent 2017 Billboard No. 1 release, Deep South, Turner has garnered multiple GRAMMY, CMA, and ACM nominations. Turner's hits include "Your Man," "Why Don't We Just Dance," "Firecracker," "Would You Go with Me," "All Over Me," and "Time Is Love," the most played country song of 2012.

Turner released his sixth studio album Deep Southin March featuring the #1 hit single "Hometown Girl." Turner shares, "I've lived a lot of life since the release of my last album (Punching Bag) and I've learned a lot during the making of this album. I have grown as a writer and as an artist. It's been cool to see this culmination of life and lessons and age boiled down into this project and I am really proud of Deep South." Turner wrote four of the 11 tracks on the highly-anticipated album including the title track and he is impressing fans and critics alike.

Rolling Stone declares that Turner, with his "river deep baritone," delivers an "eagerly awaited album from a country purist." PEOPLE Magazine says the "Nashville veteran flaunts his deep bass" on Deep South and that the album is "an ode to down-home staples, from finding that perfect love on 'Hometown Girl' to savoring the laid-back life on the title track."

Turner checked off another bucket list item when he added author to his list of accomplishments. His first book, Man Stuff: Thoughts on Faith, Family and Fatherhood was released in 2014. As highlighted in the book, the Hannah, S.C. native has been songwriting and performing since he was a young child, and in support of music education, created The Josh Turner Scholarship Fundto assist students interested in pursuing a future in arts and music. As a high school student, Turner had very little access to music education, therefore realizes first-hand the importance of arts education in schools.

For more information on Josh Turner, visit www.JoshTurner.com.