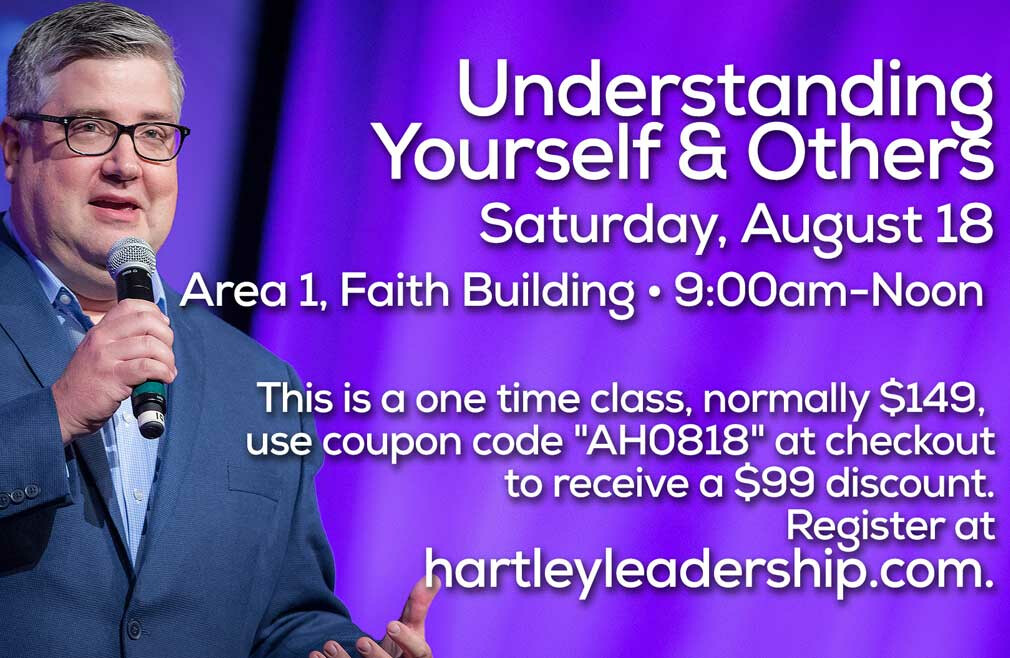 Saturday, August 18, 2018
,
9:00 AM - 12:00 PM
90% of all conflicts at home or at work can be traced to a lack of understanding of the different personality types. In this special class, you can learn the four different personality types in a FUN and interactive way and you'll learn that we are all actually blends of all 4 types.
Pastor Ken Hartley is a Level 2 Certified Human Behavior Specialist with Personality Insights and an expert in the DISC Model of Human Behavior. In this 3 hour session (2 breaks included!), you will understand how each personality type processes things in very different ways and how to relate and communicate to each one. You will leave this day with a better understanding of others and yourself. After going through this material you'll be able to quickly relate to everyone you come into contact with in a unique and powerful way.

Things you'll learn:
- How to understand yourself
- How to communicate better
- How to lead more effectively
- How to relate to others and speak their unique language

This is the only time Pastor Ken will be teaching this material here at this special rate. This class is normally $149. But for our AH family, you can use coupon code "AH0818" at checkout to receive a $99 discount for a total of $59 for the entire morning session, which includes your booklet! Class will meet in Area 1 (Faith Building) of Abba's House from 9 AM to 12 PM. Light snacks will be served. There are 30 spaces available on a first come, first serve basis.
You must preregister by Wednesday, August 15 to attend. Because all materials have to be ordered in advance, we will not be able to accommodate registration at the door.